Hello, friends and guitarophiles, 
I'm delighted to announce the release of the first Urban Miniature. 
Urban Miniatures form a collaboration between the Berlin-based composer Konstantine Margaritis and cinematographer Alkistis Kafetsi. Captured on-location; they are purposed to engage the senses by exploring visually and aurally the city. 
I'm thrilled to be able to share it today with you. 
Watch the Video: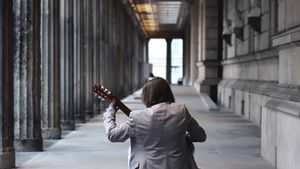 Get the Score: 
https://konstantinemargaritis.com/scores 
Sit comfortably, put your headphones on, and enjoy the rainy day. 
Konstantine